CHAMBERSBURG—Gateway Gallery Auction is selling memories on Monday, with multiple lots of local photographs, postcards and books featuring Chambersburg, Waynesboro, Mont Alto, South Mountain, Caledonia and more.
Included in Monday's sale are books of interest to Waynesboro residents (Lot 13) such as "Renfrew Park;" "A Renfrew Sampler: Objects from the Collection;" "Renfrew Museum & Park: Wagon Shed Dedication and Open House;" "Renfrew Museum,"; "Breakfast with Ed," as well as stories about the former Frick plant (Lot 18) including "Frick Power Plant"; "Peter Geiser"; and "The Evolution of the Frick Shoppes."
Plus, books on the Quincy, South Mountain and Caledonia areas (Lots 15, 20 and 33) including "Metcalfe's Machine Quincy,"; "Settlers on the Mountain of God"; "Old Grist Mills Old Forge to Welty's and Caledonia to Hambright"; "Caledonia Furnace and Park"; "Camp Michaux" and more.
Photo history aficionados will find vintage photos of Caledonia, including the Graffenburg Inn (Lot 2) and Greencastle's five-arch stone bridge and more.
Vintage postcard collectors will want to check out the multiple lots of local covered bridges (Lot 212) and dozens of other local postcards from across Franklin, Fulton and Adams counties.
There's also a unique Pine Grove Park poster and a print, "Pride of the Cumberland Valley" by Chambersburg artist Brad Clever.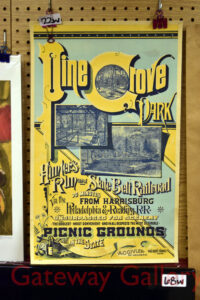 Auction begins at 10 a.m. Local history items in the Main Gallery will be sold beginning at 3 p.m. An open house auction preview will be held Sunday, April 25, from 1-3 p.m. or sale day beginning at 8 a.m.
For a complete listing with photos, visit https://gatewayauction.com/upcoming-auctions/?es_feed_target=%2F%2Fwww.estatesale.com%2Ffeed%2Fes_c1002.cgi%3Fes_id%3D7802%26id%3D369798%26feed_type%3D200%26es_cfid%3D6428