March 9 is National Barbie Day—the date that marks the time in 1959 when the Barbie doll debuted at the American International Toy Fair in New York. The now iconic toy created by Ruth Handler was the first mass-produced doll to have adult features—she also came with a line of accessories, from a change of clothing to shoes to eventually houses, cars and planes.
Barbie (whose full name is Barbara Millicent Roberts) also had several friends and family members, including Skipper, Stacie, Kelly, Chelsea, Stacie, Krissy and Francie, among others and, of course, Ken.
As kids, my sister Heather and I had a small collection of dolls and accessories, and I have many memories of our days playing with Barbies. My earliest memory of the dolls comes from when I was 5 or 6 years old and I had the Barbie Country Camper parked a little too close to the baseboard heater and I awoke to find the windshield had melted. It was a sad day for Malibu Barbie and me.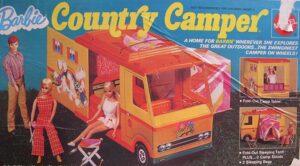 Then there were the boy troubles. Ken, to be specific. I had the Gold Medal skiing Ken with the plastic hair. Now the great thing about this version of Ken was that his blue skis stayed on his red soft, plastic boots very well. The bad thing was his head kept popping off.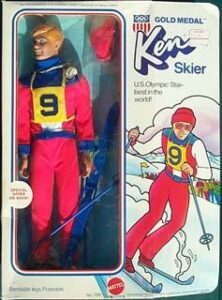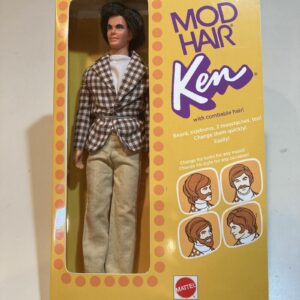 I remember asking for a new Ken for Christmas (to be honest, I figured I would play with the new Ken and pass on headless Ken to Heather). I was thrilled to open Mod Hair Ken on Christmas morning. He didn't have plastic hair. He had Barbie hair! In fact, it always looked like he had "bed head," but I didn't care. At least his head stayed on his body.
Let me pause here and say I was maybe 10 or 11 at the time, so Heather was about 5. Now it's been so long that I can't say for certain that what happened next happened because Heather didn't want my castoff Ken doll and took revenge. All I can say is that my little sister decided Mod Hair Ken wasn't anatomically correct and she decided to do something about it and the next thing I knew, poor new Ken had a hole where he didn't have one before, thanks to a hat pin.
Clearly, no Ken would be perfect for me, I would just have to deal with his flaws. (Come to think of it, that was a life lesson I should have paid more attention to, but I digress.)
But speaking of anatomically correct, I did have the Growing Up Skipper doll who grew taller and grew breasts when you twisted her arm. I don't know who thought of that marketing genius, but all I can say is, even at age 7 or 8, I knew that was weird.
Mattel has taken some heat over the years from people who criticize the doll for being an unattainable ideal of a women with an unrealistic figure, so over time, Barbie's shape has been modified to address those concerns.
I find that utterly ridiculous! I've played with a lot of Barbie dolls in my life. I've been frustrated because the sticky plastic of Malibu Barbie made it almost impossible to change her clothes. I've may have been a little jealous that my doll's clothes were nicer than my own and I definitely always wanted a real, life-sized pink Corvette convertible. But I never, EVER once looked at that doll and wondered why I wasn't built like her. I never gave a thought to her proportions. She was just a doll.
My Malibu Barbie and both Kens are long gone, along with the campers, airplane and pink Dream House—all sold at auction, along with the rest of my childhood. But that's the great thing about auction. You can buy your childhood back! We often sell Barbie dolls and accessories.
So on this #NationalBarbieDay, happy birthday to Barbie! May she continue to provide childhood memories to children of the next generation!
Andrea Rose is a semi-retired journalist and communications coordinator at Gateway Gallery Auction.